Don't let the picture fool you!  This looks like a glob on a plate, but boy what a tasty glob!  Those great fall flavors and textures shine through and really warm you up on a cool, crisp fall evening.
Our Meatless Monday this week is inspired by some of the great produce that we get from out local CSA.  We got this great spaghetti squash from Liberty Mills Farm, but we also had a bunch of other produce that we needed to use up.  And so, the Spaghetti Squash Casserole is born.  To make life a little easier on ourselves, we actually prepared the squash over the weekend, scooped it into a container, and tossed it in the fridge.  The mushrooms add a nice meatiness and the cheese a nice richness so that you never really miss the meat.  This dish also reheats very well, meaning lunches or even sides for meals later in the week.  This is definitely one of those cook once, eat three, four, or even five times.  I hope you enjoy!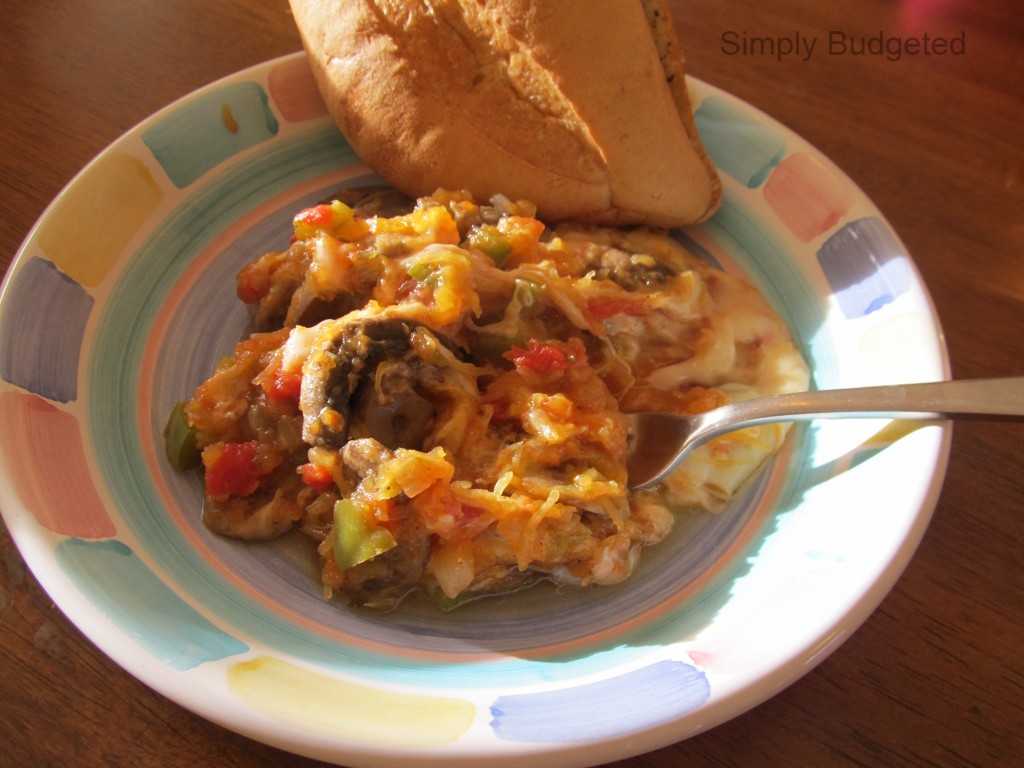 Spaghetti Squash Casserole
The ingredients here are just suggestions, really.  They are what I had in the fridge.  If you have fresh tomatoes, go for it.  Carrots, celery, any type of mushroom…really, whatever you have handy will do the trick well!  Bonus:  The kids loved it!
Ingredients
1 medium spaghetti squash
3 T olive oil
1 pound white mushrooms, sliced
salt and pepper
1 medium onion, diced
1 large bell pepper, diced
1-28 oz. can diced tomatoes, drained
1/2 lb. shredded cheese
Directions
Preheat oven to 400.  Slice squash in half and remove seeds.  Place flesh side up in a baking dish.  Add about an inch of water to the dish and cover with foil.  Bake 45 minutes to an hour or until tender.  Let cool slightly.  Remove flesh and set aside.  Reduce oven temp to 350.
In large saucepan over medium-high heat, add olive oil.  Add mushrooms with a good pinch of salt and pepper and cook until beginning to brown (this will happen all of a sudden after a seemingly endless amount of water releases), about 10 minutes.  Add onion, bell pepper, and another small pinch of salt and pepper.  Cook another 4-5 minutes until onions are very soft.  Add tomatoes, stirring well to combine.  Cook until sauce is no longer watery, about 5-10 minutes.  Season to taste.
In a large bowl, combine tomato mixture with squash.  Fully incorporate the mixture.  In a deep baking dish, layer half of the squash mixture, followed by half of the cheese, the other half of the squash mixture, and the last of the cheese.  Cover the entire dish with foil.  In a preheated 350 oven, bake for 30 minutes.  Remove foil for the last 5 minutes.  Let cool about 5-10 minutes before serving.
Quick Tip:  If you are in a super hurry during the weekdays, you can do this nice little cheat.  Prepare the squash over the weekend and refrigerate.  On dinner night, combine the squash with your favorite chunky type pasta sauce.  Layer and bake as above.  Enjoy!!
Like this recipe?  Want to see more?  Leave us a comment with your most recent successes or let us know what recipe you want to see next.