Friday Favorites is another almost weekly feature here at Simply Budgeted. The whole point of this feature is to share some of our favorite finds. Anything is game. Food. Cleaning supplies. Kid stuff. Garden favorites. Recipes. Anything that I really like and want to randomly post about. Reminder/Disclaimer/Whatever: Everything in Friday Favorites is something that we use and bought on our own.
Up this week …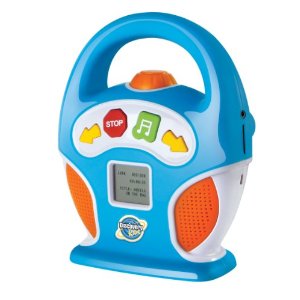 Details …
Bring the wonderful world of music to your child with the Discovery Kids Digital MP3 Boom Box. Ideal for ages 3 and up, this durable carry-along plays MP3 or WMA audio files downloaded directly from your computer for portable music any time, anywhere. This colorful MP3 player is built kid-tough with large, easy-to-use buttons so your little one can navigate through their favorite songs with ease. With a handy SD slot included, uploading music is hassle-free. Perfect for traveling, camping, or even going to the beach.
Our Thoughts …
It says 3+ but our 2 year old LOVES this and has claimed it from his sisters. We never added songs to this … I don't know why as we have kids songs in MP3 format. I guess it is because the kids love the songs that are on there so we just didn't add our own!
The only problem with this toy is that you will get tired of it before the kids do. There is an off switch though!;) This boom box is holding up well to our three kids. I can't tell you how many times it has been dropped or kicked or smooshed. It still works and I love that!!
Find this over on on Amazon right now. It really is a great gift for a little one.
Do you have this toy? Leave us a comment and let us know!