We wanted to share this simple and budget friendly gift idea.
These pie plates were a discovery a couple of years ago on clearance. They are actually Le Crueset pie plates and we only bought them because they were 75% off. Well in digging through the gift stash, we found them and decided they would be teacher gifts. The original idea was to bake pies and take a baked pie to the teachers but that seemed a bit odd to carry into school. So we decided to make it the pie fixings and created  "Bake-Yourself-a-Pie" gifts.
What is in a  "Bake-Yourself-a-Pie" Gift? Here is a close-up picture …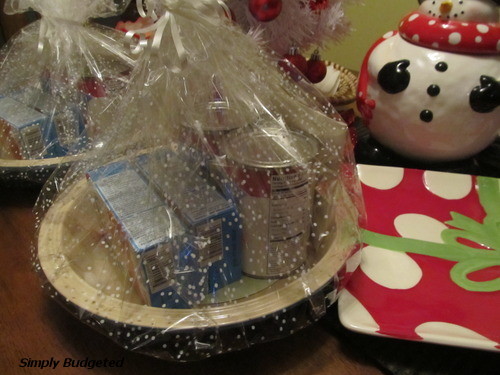 Contents of the "Bake-Yourself-a-Pie" Gift are …
2 cans of cherry pie filling (any kind of pie filling will do though)
2 boxes of pie crust mix
1 pie dish (any kind and this where you can make if fancy and budget friendly)
a Christmas card signed by a Kindergartener (well you … even if you aren't in Kindergarten!)
Wrap it with cellophane wrap and tie with a piece of ribbon! How simple is that?
Ta-da! Here they are finished and ready to go!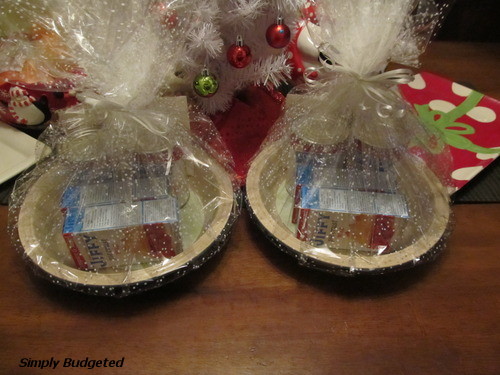 The teachers apparently loved their gifts according to Brian who volunteered at Grace's class today. If nothing else, it wasn't a candle so at least we didn't add to their candle collection and hopefully they get a chance during break to bake a yummy pie!
Who could you give a gift like this to? What is your favorite easy gift idea this holiday season? Leave us a comment and let us know!