This week we thought we'd change things up a little bit.  We are still on the 2012 Whole Living Action Plan and this week we get to add beans and lentils to our diet.  As such, we were able make a couple of hearty soups to help sate those hunger pangs from last week.  We spent some time on Sunday making Red Lentil Soup and White Bean and Mushroom Stew.  These soups were quick, cheap, and easy to make.  I made them side by side and the entire process took less than an hour and a half, including all of the chopping.  That winds up being four dinners and several lunches this week.  That's saving time and money!
The soups themselves were pretty good.  The White Bean and Mushroom Stew never really thickened up like I would have liked.  Perhaps omitting some of the water or crushing up some of the beans would have helped that out.  Make sure you season with plenty of salt and pepper.  Believe me, the soup can handle it.  The Red Lentil Soup tastes great as well, but we weren't able to use red lentils because they were not available at our local supermarket.  So we used green lentils instead (I would suggest soaking them for a bit before cooking).  We also do not like turnips, so we substituted parsnips instead.  The changes worked out well for us.  Again, plenty of seasoning is definitely called for.
Both soups would have been markedly better with some bread or crackers to sop up and to add a textural note.  Since our diet right now does not allow that, we'll just have to watch the kids gobble it up.  The White Bean and Mushroom Stew, in particular, was enjoyed by our girls with bread and oyster crackers.  They enjoyed it so much that they actually asked for more soup to go with their leftover crackers!
Here are some pictures of the process: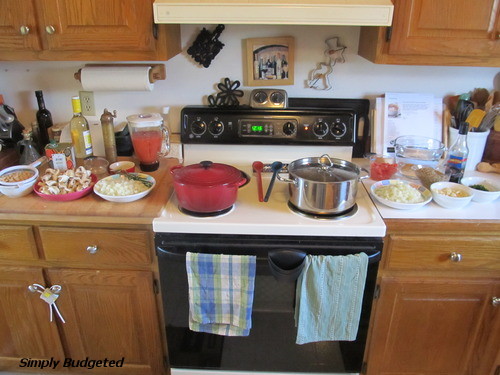 I had to keep everything separated to keep myself straight and not mix up the ingredients!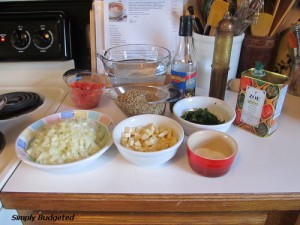 Super simple ingredients for a basic, hearty lentil soup.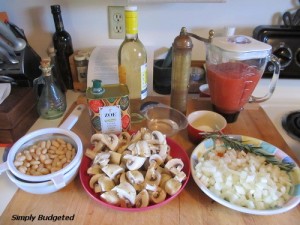 Less than ten ingredients and 45 minutes away from filling, comforting soup.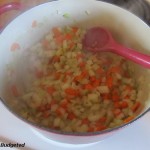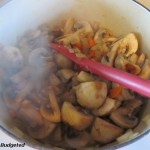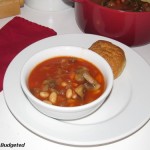 So I forgot the picture of the soup cooking with the tomato puree.  What are you gonna do?  I was just so excited about tasting it all!
Make sure you take the opportunity to try these recipes out.  With the cold creeping into your bones as winter's chill finally rears its ugly head, these soups are sure you warm your belly.
What did you have for Meatless Monday?  Leave us a comment and let us know.