Finally, the hardest part of our journey comes to an end.  Our six-week vegan diet period is over, but we still have another six weeks of vegetarian fare ahead of us.  When we say vegetarian, we are including honey and dairy products (including eggs) in our diet, but all flesh are out.  No fish, beef, pork, or poultry for a while yet.  So far, I am down 24 pounds from the start of the year and Beth is down 14.  Those are good numbers for six weeks worth of dietary changes.  We are very happy to be able to include cheese back into our diets now.  Still, just because we can eat cheese, doesn't mean that we should!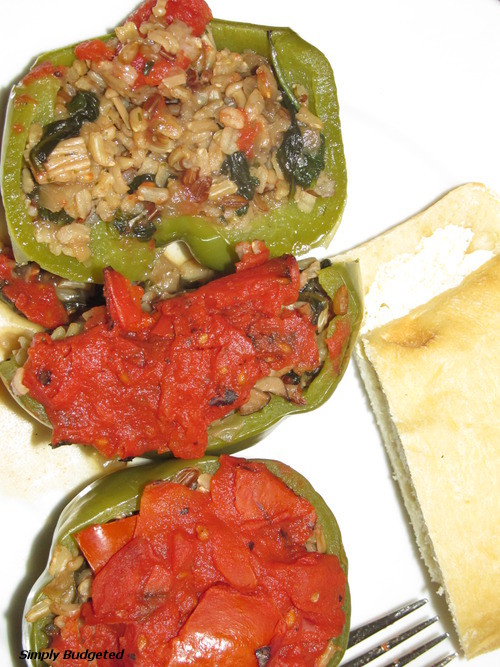 For this week's Meatless Monday, we decided to base our recipe on the Zucchini Boats recipe from MeatlessMonday.com.  We actually tried the Zucchini Boats without the cheese a week earlier, but found that the zucchini was a little bland for us and didn't cook through all the way, leaving it squeaky (that might be one of the worst descriptors for food).  The only change we made to the recipe was using a brown rice blend instead of just brown rice.  We loved the rice mixture and thought that it would be great in a stuffed pepper.
Since we had made too much of the rice mixture, we just used it the next week to fill some peppers.  All you have to do is slice the tops off of the peppers and pull out the seeds and white stuff inside.  Fill them up with the rice, but don't pack it down.
I discovered too late that I did not have any pasta sauce anywhere in the house, so I found a can of diced, fire-roasted tomatoes, drizzled some of the juice over the rice (so it could seep down into the rice), and topped with a couple of spoonfuls of the tomatoes.
Pop them into a deep-sided pan or casserole dish, pour in about 1/4 inch of water, cover with foil, and place into a pre-heated oven set to 350.  Cook 30-45 minutes or until a sharp knife easily pierces the pepper.
Serve it with some bread if you like, or with cheese, or not.  At that point, it's all up to you.
That's it!  See how easy and tasty meatless can be?  Can't stand the thought of going meatless?  Use this as a side or toss some ground beef in the mixture.  Either way, this is going to be a healthy, tasty dish that everyone is your family will enjoy!
Have a Meatless Monday experience, recipe, or request?  Leave us a comment and let us know what you're up to!
Meatless Monday, a national nonprofit public health initiative, is all about incorporating more vegetables and less meat into our diet.  It's about moderation, just one day a week, cutting down on meats high in saturated fat and increasing protein-rich plant-based foods — good for personal health and good for the planet.