We are all about keeping our dinners simple, affordable, and tasty.  On the other hand, I'm still just a big kid who still likes to play with his food.  Sometimes, experimenting with new flavors or new types of food can really negate these factors (especially the tasty part).  This especially becomes a problem when, like me, you come from a household that adores meat and are now trying out meatless recipes.  These tapas are a great simple way to experiment a little, without all of the fuss.
The word tapas comes from the Spanish verb tapar, "to cover."  The idea is that a piece of bread or meat or even a plate would be set on top of a glass of wine to keep stuff out of the wine.  These "covers" could then hold various other foods, leading to a long tradition of Spanish cuisine.  Our offerings today are quite easy and could even be accompanied by a small meat tapas for those individuals who "could never have a meal without meat."
Below you can see, from left to right, a Spinach Artichoke Dip, Patatas Alioli (Potatoes with Garlic Mayonaisse), and Deviled Eggs.  We purchased the dip at the local big box store.  You could make your own, but this is all about being simple, right?  The Deviled Eggs…well, it's after Easter right?  Most of us have a Deviled Egg recipe looming somewhere or can easily find one.  That will have to be another post.  The potatoes, however, were so good that I just have to include a recipe.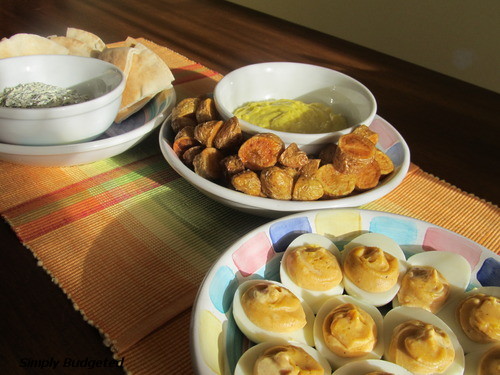 Patatas Alioli or Potatoes with Garlic Mayonnaise
This dish is a pretty traditional tapas and couldn't be easier to put together.  We used fingerling potatoes, making it easy just to cut round little knobs, but you could easily cut a larger potato into long quarters and cut chunks from there.  Just use what you have.  Making the alioli can be tricky.  Whisking can make your arm tired, but get the hand blender going too fast and you'll just have an oily mess (trust me on this one!).  If  you like more garlic, feel free to add more.
Ingredients
4-6 Cups potatoes, cut into 1/2-3/4 inch chunks
oil for frying
salt
2-3 large garlic cloves
1 tsp salt
2 egg yolks
1 Cup olive oil
1 1/2 Tbsp fresh squeezed lemon juice
Directions
Over medium-high heat, heat about an inch and a half of oil in a large skillet (make sure not to come up over half-way up the sides or you might spill over when the potatoes go in).  When the oil is hot (a potato fries immediately when inserted), add one layer of potatoes.  Fry for about 10 minutes or until the insides are fluffy when opened up.  Drain on paper towels and salt immediately after pulling them from the oil.
For the alioli, press or mash the garlic into a paste using the salt.  Add to a large bowl with egg yolks and whisk until well combined.  Slowly add the olive oil, whisking the whole time.  Add little bits at first, making sure that they are fully incorporated before adding more.  As you near the end, you can add larger quantities, but never more than 1/8 Cup at a time.
Serve the alioli on the side of the potatoes or fold the potatoes into the sauce in the traditional fashion.  Enjoy!
Have a Meatless Monday experience, recipe, or request?  Leave us a comment and let us know what you're up to!
Meatless Monday, a national nonprofit public health initiative, is all about incorporating more vegetables and less meat into our diet.  It's about moderation, just one day a week, cutting down on meats high in saturated fat and increasing protein-rich plant-based foods — good for personal health and good for the planet.