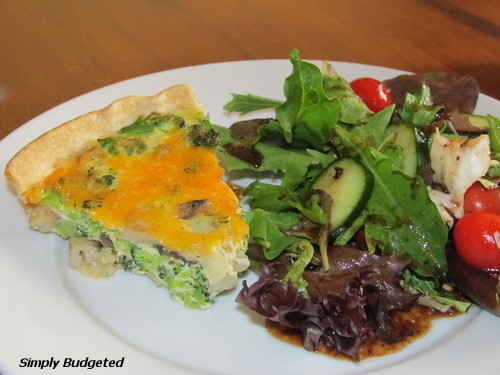 No frills this week for Meatless Monday! We made a quiche with some veggies that were sitting in the fridge. We took some onions, mushrooms, and broccoli and sauteed them up with butter, salt, and pepper until the broccoli was tender. We poured the veggies into a pie shell and topped with an egg mixture (4 – 6 eggs mixed with 1 – 1 1/2 cups milk) and some cheddar cheese. We baked at 350 for about 30 minutes or until the eggs were set.
What are you doing for Meatless Monday? Have a Meatless Monday experience, recipe, or request? Leave us a comment and let us know what you're up to!
Meatless Monday, a national nonprofit public health initiative, is all about incorporating more vegetables and less meat into our diet. It's about moderation, just one day a week, cutting down on meats high in saturated fat and increasing protein-rich plant-based foods — good for personal health and good for the planet.