What is the moment I wish I could do over again?
Not catching the girls left markers out in little dude's reach. The girls do really good with the markers with these days but they know to put them away when they are done coloring in their coloring books. Well this day, they left out a nice pretty blue marker that little man found.
Little dude decided that he should try to become a Smurf or member of Blue Man Group or some alien from another planet. Instead of just coloring his hands like his sisters did he went for his legs. He lifted up his pant legs and colored the bottom of his leg. He did a pretty good job making sure he colored all parts of his leg so I will give him credit where credit is due there!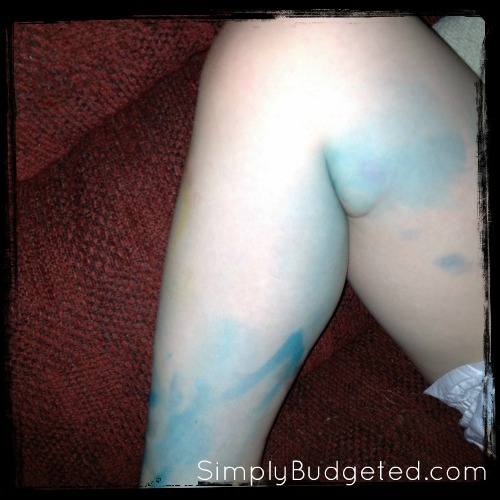 What would I change?
I would have taken a second look around the room before I let them go back to playing while I did some cleaning in the kitchen. Yeah that second look might have saved me from having to clean the rugs because not only did he draw on his leg but the bottom of his foot.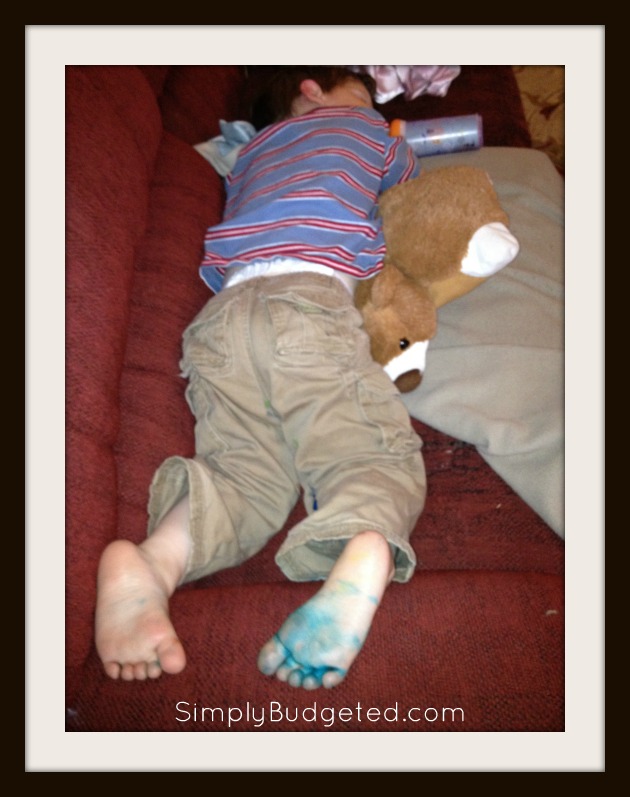 Yeah it is cute until you realize the bottom of his feet get sweaty. After he colored himself, he ran all around the main level of the house. So I had pretty blue foot prints that I had to clean up everywhere.
The good news was it was washable marker. We have learned there thanks to Sophie … washable crayons and washable markers are a lifesaver. The bath water was only blue one night and the rest did wear off after a few days!
I did still have to explain to Beth what happened when she got home from work because these are actually pictures she took after she got home from work. At least she laughed at him being a little boy and noted that was why didn't buy an expensive rug for the living room.
From Frigidaire : The Frigidaire Gallery™Dishwasher gets dishes fully cleaned the first time, so there are no dish do-overs. Nearly half of adults admit to re-washing and/or re-drying dishes after the dishwasher cycle has been completed. To prevent dishwasher do-overs, Frigidaire® is stepping in with its new Gallery® Dishwasher featuring the OrbitCleanTM Wash Arm, ensuring dishes are cleaned right the first time.
NOTE:    I was compensated for this post as a member of Clever Girls Collective. All the opinions expressed here are my own.