I have mentioned a few times that we went camping earlier this month. We stayed two nights at Jellystone Park Yogi Bear's Natural Bridge, Virginia location. As I said, we went in camping in that it was at a campground. We opted for a cabin which was a really smart move even it was an upgrade from the Groupon I had bought for the trip.
Here is the Basic Deluxe Cabin we had …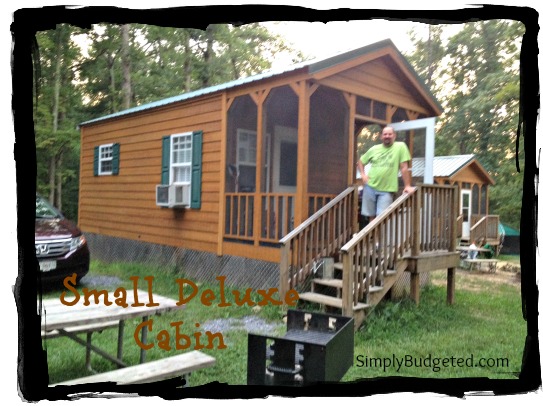 My mom kept asking me questions so I ended up with a full little tour of the cabin in pictures. So here is a little picture tour of a Basic Deluxe Cabin …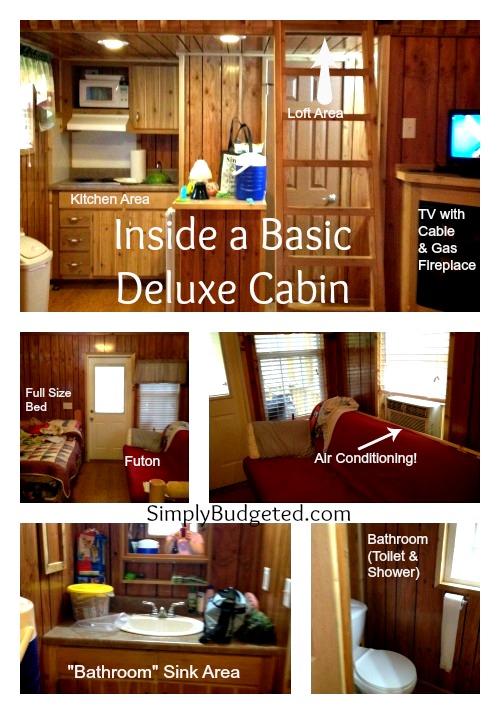 The cabin next to us was a Large Deluxe Cabin and also had a family of five in it. We decided the extra space they had would probably worth the extra price in the future!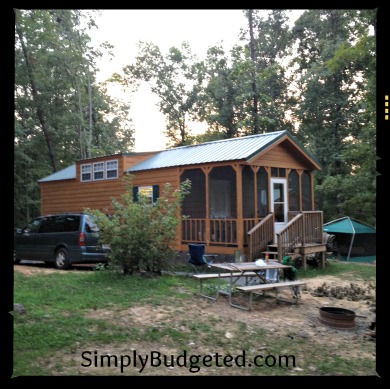 We did have a lot of fun making S'mores at our campfire. Plus the kids really loved the two playgrounds (this was just one of them!)
Their favorite part was probably the Spray Playground though …
Little Dude loved the Jumping Pillows! I got on them once and was convince I was going to break a leg and promptly go off. (Note, I saw no one get hurt on these while we were there!) Of course the one picture I have of the jumping pillow, he isn't on them but he is in the picture!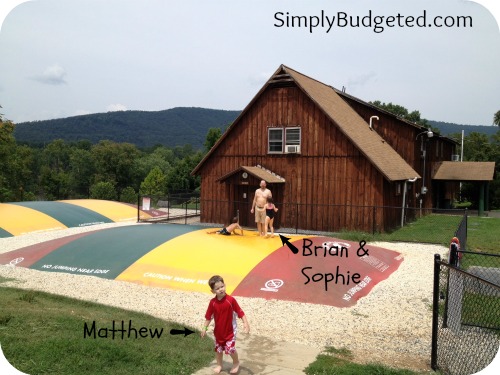 I failed to take pictures of the pool, the two huge water slides (that Grace actually went down!!), the mini-golf, the beach, and the James River though! The kids kept us busy and my phone tucked away apparently!
When you check-in you are given a full schedule of what is happening. The girls really loved the craft times (they are either free or really cheap). Brian and I loved that all of these activities were included in our cabin rental. We weren't shelling out extra money at every turn! This was even more perfect for our family of five because the stay included arm bands for two adults and three children!
The campground has the option to rent a golf cart. We decided to try to  just use the van for driving around and it worked out nicely. The speed limit on the driveways is really low because of the golf carts so keep that in mind as you drive around!
There are Jellystone Parks all over the place so you check around you and see if there is one near you! You can follow the Yogi Bear's Natural Bridge Campgrounds on Twitter and Facebook where they update their activities and specials too!
Did you go camping this summer? Does your family camp in cabins or in tents? I admit I would be a happy cabin only camper but Brian has dreams of the family camping in tents one of these years! Leave us a comment and let us know!