I love Walmart.  If you love Walmart too, just go ahead and raise your hand.  It's ok, no one's watching.  Go ahead and raise your hand.  Recently, MomSelect sent us a $75 gift card and challenged us to see what all we could get with it at Walmart.  Here was the catch:  we had to make sure to purchase an HP XL ink cartridge.  Well, I went a little over, but here's a picture of my haul.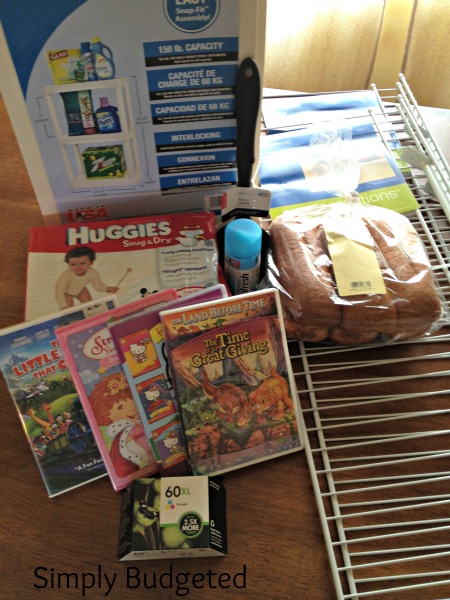 I love shopping at Walmart because it's pretty much one-stop shopping.  I went in with a specific list, but that rarely holds, especially when I'm walking around with my little man in tow.  Besides the ink, my list included diapers, a ladle, toothpaste, sub rolls, and some shelving to address some of the storage issues that we have in our kitchen.  There are very few places in our area where you can get bread, ink, toothpaste, and storage solutions all in the same spot.  The videos in the picture started as a treat for my little guy, but turned into a treat for the girls as well.  They were in the electronics section near the ink.  That dinosaur movie has been watched at least 4 times a day for the past 4 days.  Worth the price, I guess.  What you don't see in this picture is a box of dinosaur cookies that Matthew claimed when we were getting bread in the bakery section.  Again, proximity worked against me on this, but my boy was super happy!
The HP XL ink was the most expensive single item.  I bought the HP 60XL color ink cartridge.  Had I bought one of the color cartridges and one of the black and white cartridges, I would have completed my $75 challenge right there.  The price at Walmart is comparable to so many online distributors, but without the shipping costs involved.  Not a bad deal.  Plus, you can even purchase them at Walmart.com/HPink and pick it up free at your local Walmart.  On top of that, the XL cartridges are a huge savings on their own.  XL does not refer to the size of the cartridge, it refers to the amount of ink in the cartridge.  Did you know that you can save as much as 40% by using the XL cartridges as compared to the regular HP cartridges?  Extra bonus…when I went to check out, the ink purchase actually got me an extra $10 Walmart gift card for a later purchase!  How great is that?
We are excited to offer one of our reader a $20 Gift Card! What would you print with HP XL Ink? Good Luck in the giveaway!
a Rafflecopter giveaway