Thanksgiving holiday meals can get expensive pretty quickly if you aren't careful.  The dinner itself needs lots of attention, but, if you are hosting family, you'll want something for breakfast too.  Who wants to spend time making breakfast for a crowd when you know that you'll just be spending the whole day making dinner?  Thankfully there are products out there to help!  Walmart's Great Value refrigerated crescent rolls, biscuits, and pie crusts are some great shortcuts for making delicious dishes.
Before posting recipes for our readers, I always like to make sure that I try them out first.  In this case, I had a couple of events coming up that were perfect opportunities.  First, I had a Thursday evening Bible study that needed snacks.  Mini Pecan Pies fit that bill perfectly.  On Friday morning, I had a breakfast with a few guys from the church.  We meet every two weeks or so for breakfast and we all contribute a little something.  This time, I contributed Easy Monkey Bread and Breakfast Pigs in a Blanket.
Here are the recipes and some pictures of the prep.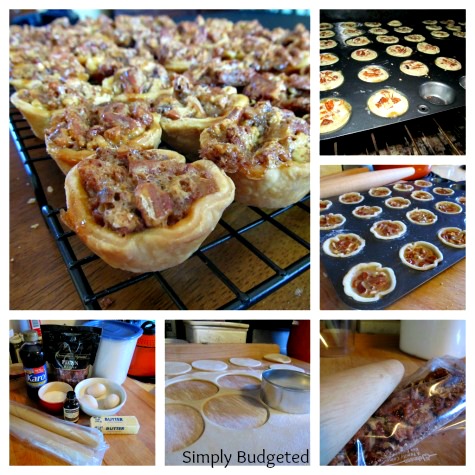 Mini Pecan Pies
This recipe comes from my Great-Grandmother's Pecan Pie recipe.  I love it, but so few people that I cook for really eat pecan pie.  In Louisiana, you had to make two pies just to barely meet demand.  You might not get all that you want, but everyone would get some.  In Central Virginia, we won't even finish one.  I don't know, maybe it's just too gooey.  I've taken that yummy classic recipe and I reduced it down into a tasty two-bite treat.  The result is crunchy pecans floating in a slightly gooey and oh so sweet filling all wrapped up in crusty pie shell.  So delicious!
Ingredients
1 package of Great Value pie shells (you'll use both shells)
2 cups chopped pecans
1 cup Karo dark corn syrup
3 eggs, slightly beaten
1 cup white sugar
2 Tbsp butter
1 tsp vanilla
1/8 tsp salt
Directions
Preheat oven to 350.
Using a 2 1/2 inch ring, cut the pie shells into small discs (I got 40 rounds by keeping them close and rerolling the crust).  Push the discs into mini muffin tins and fill with approximately 1 Tbsp of pecans per shell.
Combine remaining ingredients into a mixing bowl and stir until well combined and bubbly.  Carefully pour syrup mixture into pie shells so that pecans are mostly covered.  Careful not to overflow the pie shells.
Bake at 350 for 30-35 minutes or until filling has set (they will appear bubbly and inflated, but will settle as they cool).  This part just takes practice.  Either way they taste good…all the more reason to practice often!  Allow to cool in pan for about 5 minutes before attempting to remove.  Use a butter knife to turn around the edges until the pies release.  Let cool completely on a wire rack.
Serve with whipped cream and enjoy!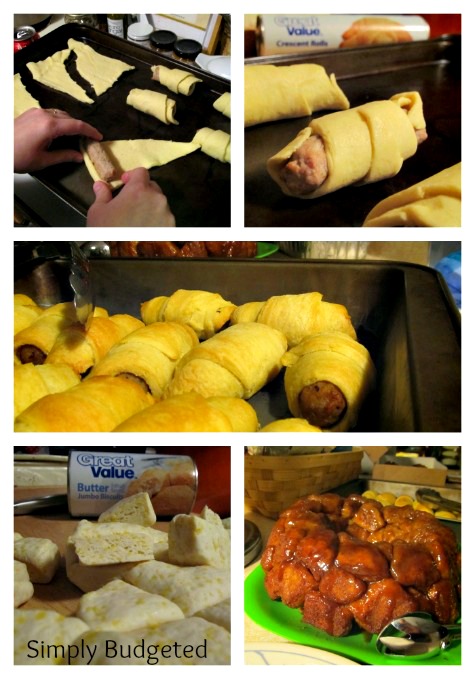 Breakfast Pigs in a Blanket
These are super easy and are all the better as a breakfast helper because they can be rolled out the night before and just tossed in the oven in the morning.  The maple sausage really makes this tasty without all of the morning mess of syrup.  If you do make ahead, make sure that you cover them with a towel before putting them in the fridge for the night.
Ingredients
2 cans of Great Value crescent rolls
16 pre-cooked maple flavored link sausages
Directions
Preheat oven to 350.
Roll sausages into individual crescent rolls.  Bake for 12-15 minutes or until lightly browned.  Serve and enjoy!
Easy Make Ahead Monkey Bread
This was quite a leap of faith.  I wasn't sure how the biscuits would work sitting overnight.  Let me tell you, these worked out way better than I could have imagined.  I wound up with this great extra cinnamon syrup that really helped keep the whole thing super moist.
Ingredients
2 cans Great Value jumbo biscuits
3/4 cup white sugar
2 tsp cinnamon
1 cup brown sugar
3/4 cup butter, melted
Directions
Cut each of the biscuits into 4 pieces.  Toss into a gallon-sized zip top bag with the white sugar and cinnamon until each of the biscuit pieces are well coated.  Seal the bag and place in the fridge overnight.
The next morning:
Preheat the oven to 350.
Pour all of the biscuits into a 12-cup tube or bundt pan.  Combine brown sugar and butter and pour evenly over the biscuits.  Bake for about 30 minutes or until all of the biscuits are cooked through.  The syrup should be goopy, but the biscuits should not be.
Allow to cool for just a few minutes before putting a plate on top of the pan and carefully inverting.  Tap the pan a few times until it drops onto the plate.
For more great holiday recipes and budget friendly ideas, make sure you check out Great Value on Twitter:  #GreatValue
What are some great dishes that you've make using Great Value or other store brand refrigerated dough?  Leave us a comment and let us know!