Yummly recently issued me a challenge in exchange for a place at the World's Longest Picnic Table.  Now, I am never one to back down from a challenge, but this one was particularly difficult.  "Brian," they said, "Mario Batali has made over a classic Hellmann's Mayonnaise recipe.  We want to see your twist on his recipe."  Wait, what?  This is a guy who does this for a living and you want to see how I would change what he's done?  Well, like I said, I'm never one to back down from a challenge.
Your first question may be, why is Mario Batali messing with classic Hellmann's recipes?  Your second question may be, what does this have to do with us?  Well, let me tell you.  Chef Batali has teamed up with Hellmann's to celebrate it's 100th birthday!  That's right, for 100 years, Hellman's has brought together the best ingredients to help you bring out the best in your meals and to help you share those special moments with your friends and family.
For me, nothing says that better than the classic backyard barbecue.  It's coming up on summertime and grilling season is definitely underway.  One of my favorite things to grill these days is pizza.  Have you ever grilled pizza?  If you haven't, you are missing out.  I took one look at Chef Batali's "Favorite Parm Chicken" and I knew right away that I was going to make a Grilled Chicken Parm Pizza.  The classic Hellmann's recipe coats the chicken in mayo and breadcrumbs.  Mario added more seasoning and sprinkled some breadcrumbs on top rather than coating it.  He topped it with mozzarella at the end and served it with a side of marinara sauce.  Tasty!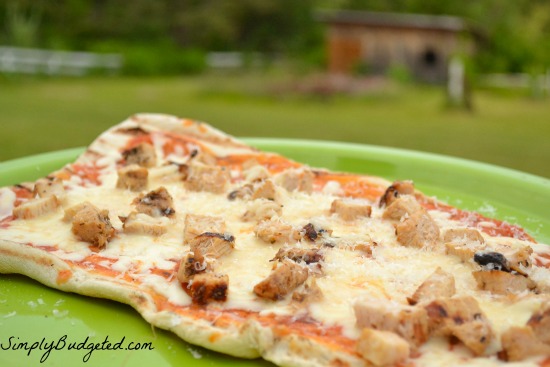 I decided to completely flip that on it's head.  Instead of a whole piece of chicken topped with crumbled bread and cheese, I went with a whole piece of bread topped with crumbled chicken and cheese.  I put together a tasty marinade using Hellmann's Mayo so that the chicken got some great Italian flavors and stayed incredibly moist.  I grilled the chicken, chopped it up, and used it as a topping for my grilled pizza along with a simple tomato sauce and mozzarella cheese.  YUM!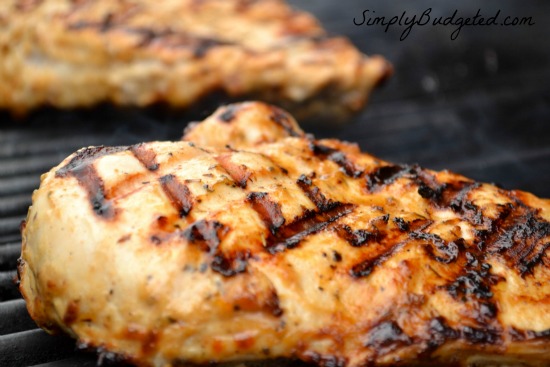 I would gladly eat this chicken on it's own.  But it just makes this pizza!  It's pretty incredible to me that, when you take a good bite of this pizza, you actually taste chicken Parmesan.  It's amazing!  I think that Chef Batali would truly enjoy my crazy twist on his recipe.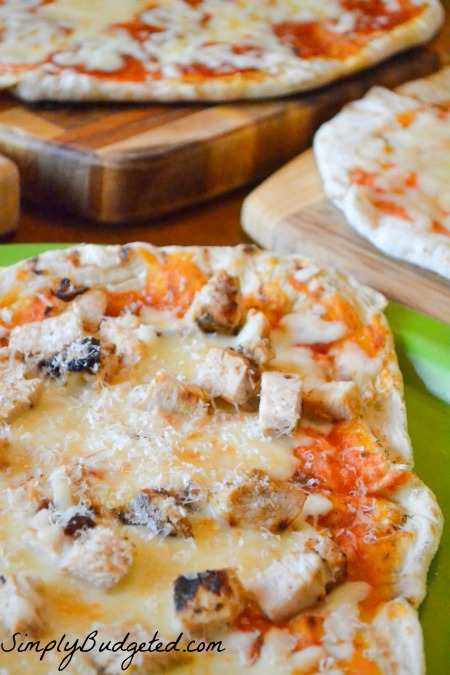 With pizza dough being so cheap and our little ones being such finicky eaters, it's really nothing for us to make 3 or 4 pizzas in a night.  We have to have cheese pizza for our little man and cheesy bread is a must for our non-pizza eating 6-year-old.  That leaves two specialty pizzas that I get to make for the adults.  I'm pretty sure that this will become a regular in that rotation.
Hellmann's Grilled Chicken Parm Pizza
I love grilling pizza.  The little touch of char, the extra bubble of the cheese, and the incredible crispiness of the crust just make it very special.  My Grilled Chicken Parm Pizza tastes amazingly similar to a traditional Chicken Parmesan.  A tasty marinade, a simple tomato sauce, and plenty of gooey cheese on top of a crispy charred crust will make you forget all about your local pizzeria.
Ingredients
1 cup Hellmann's mayonnaise
1 tsp salt, divided
1 tsp pepper
1 tsp Italian seasoning
2 tbsp red wine vinegar
2 tbsp olive oil, plus extra for pizza dough
2 large chicken breasts
1-28 oz can whole, peeled tomatoes
1 cup all purpose flour
1 refrigerated pizza dough ball
2-3 cups shredded mozzarella cheese
freshly grated Parmigiano Reggiano cheese
Directions
Combine Hellmann's mayonnaise, 1/2 tsp salt, pepper, Italian seasoning, red wine vinegar, and olive oil in a zip top bag.  Add chicken and toss to coat.  Refrigerate for 3-6 hours.
Pour the tomatoes and juice into a blender with the remaining 1/2 tsp salt.  Puree until smooth.  Set aside.
Heat a grill to medium-high heat.  Oil the grates.  Take the chicken out of the marinade and cook it for about 10 minutes per side or until completely cooked through.  Set aside to rest before chopping into approximately 1/2 inch cubes.
Prepare a large cutting board and rolling pin with flour.  Apply more oil to the grill grates.  Take half of the pizza dough, flour it, and roll it thin with the rolling pin.  Using your fists, stretch the dough further, being careful not to tear it.  Lay the dough onto the hot grill and brush or spray more oil onto the dough.  After about one minute, rotate the dough 90 degrees.  After another minute or so (the bottom of the dough should be slightly charred), use tongs to flip the dough to the other side.  Working quickly, spoon about 1/4 – 1/2 cup of tomato sauce onto the dough, followed by 1/2 cup mozzarella, about half of the chopped chicken, and another 1/2 – 1 cup mozzarella.  Close the grill lid and allow to cook for about 2 minutes or until the cheese is bubbly.  Remove the pizza to a cutting board, grate Parmigiano Reggiano directly onto the hot pizza, and allow to sit for about two minutes before slicing.  Repeat with the remaining ingredients.
Slice into wedges or squares, serve with a side salad, and enjoy!
Did you know that, to celebrate it's 100th birthday, in addition to teaming up with Chef Mario Batali, Hellmann's is helping to provide 1,000,000 meals to Feeding America to help fight against hunger nationwide?  To top it all off, Hellmann's will be holding a huge celebration in New York this September.  They will be hosting the Blue Ribbon Table, the World's Longest Picnic Table!  Visit Facebook.com/Hellmanns to watch Mario share his modern twist on some of Hellmann's classic recipes and enter for a chance to win a seat at the Blue Ribbon table in NYC for Hellmann's 100th Birthday celebration.
What dish are you going to give your twist to?  Enter the contest and then come back and let us know.  Good Luck!