When we are doing our backyard summer barbecues, we usually think of the meat item first.  However, whether trying to eat healthier or just living a meatless lifestyle, more people are skipping the meat altogether.  It can be hard to put out a side dish that can not only stand on its own, but that tastes like summertime.  This simple tomato salad may be just the ticket.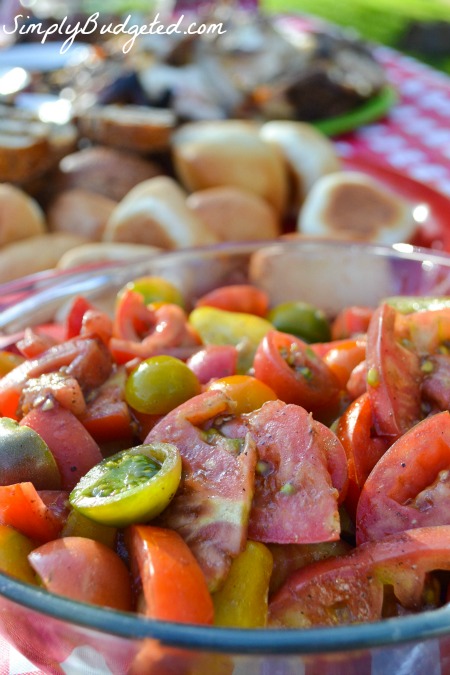 It's tough to think of a more iconic taste of summer than that of a perfectly ripe tomato.  They are juicy, acidic, and they just plain taste incredible.  I can remember buying fresh tomatoes from a roadside stand and coming home to just cut them and eat them.  I can't even get a ripe cherry tomato at home.  The kids pull them all off and gobble them up before I can get to them.
That's why this salad is so great!  Some salt, pepper, olive oil, and a little balsamic vinegar compliments the different flavors of these beautiful tomatoes.  The different colors, shapes,and types of tomatoes add a great variety of flavors and textures and make the dish as beautiful to look at as it is incredible to eat.  On top of that, we bought all of our tomatoes at a local farmer's market so I know that these tomatoes are fresh, ripe, and safe for my family to eat.  Enjoy!
Summer Tomato Salad
Make sure that you pick up some different types and colors of tomatoes.  The beautiful, almost black, cherry tomatoes, the pear shaped ones, yellows, reds, oranges, plus any number of heirloom tomatoes.  You want to have chunks and slices of the bigger ones and just cut the cherry tomatoes in half.
Ingredients
1 pound cherry tomatoes
1-2 pounds heirloom tomatoes
1/4 cup extra virgin olive oil
1/8 cup balsamic vinegar
salt and pepper to taste
Directions
Slice, halve, and chunk the tomatoes into various sizes.  Top with oil, vinegar, salt, and pepper and gently fold to combine.  Allow to sit for 30 minutes to an hour for flavors to fully combine.
What is your perfect summer side dish?  Could you make a meal out of sides?