Once again another post that I meant to get up in August but I know that folks in this area still camping and even more so making fires to huddle around at night. Here is a beyond easy treat for you.
The girls made Campfire Dump Cakes at Girl Scout camp this year. So when Brian's parents wanted to celebrate Grace's birthday while we were camping with them, the Girl Scout Campfire Cake seemed like the perfect option. It was! We packed up one chocolate cake mix and two cans of pie filling. Grace picked chocolate cake mix with cherry pie filling. This was a favorite at Girl Scout camp. Other favorite combinations are yellow cake mix with apple pie filling and yellow cake mix with peach pie filling.  It seems silly to write out directions but here they are. The pictures explain it all though so pin the pictures and make it at your next campfire!
Ingredients
1 – boxed Cake Mix
2 – large cans of pie filling
Directions
Line your cast iron dutch oven with a liner (Walmart sells them. This OPTIONAL but saves you a ton of time and scrubbing!) Pour the pie filling into the dutch oven. Pour the cake mix in the dutch oven. Put the lid on and place it in the hot coals of the campfire. Let cook 30-40 minutes.
I will add a note that Brian even made one of these in the oven. The cooking time was a little shorter but exact same concept! 😉 Since all of the "dumping" of ingredients is done while the dutch oven isn't in the fire this is a perfect campfire activity for little hands to help!

Grace was super excited to share her birthday campfire cake with everyone!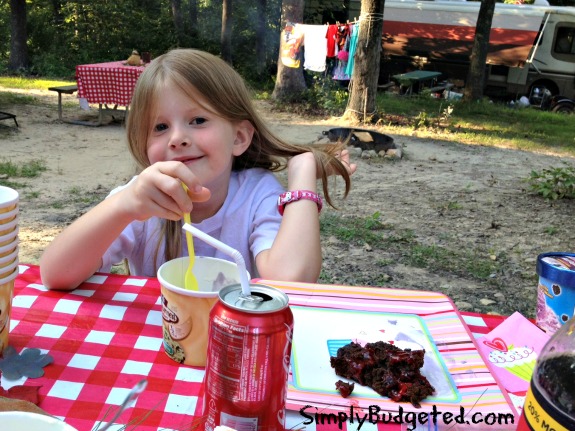 Looking for more recipes and ideas? Follow SimplyBudgeted on Pinterest!
Check out 8 FREE Activities to do with Kids this summer too!