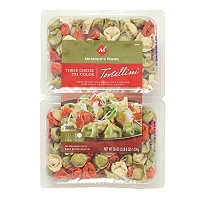 This week's Meatless Monday post is a bit of a cheat.  That's ok because everyone needs a nice easy to put together meal from time to time.  This recipe takes advantage of our local Sam's Club.  In the prepared foods section, they have these great packages of Artisan Fresh 3-Cheese Tri-Color Tortellini.  We took those, some butter, onions, cherry tomatoes, cream, and parmesan cheese (all of which can be bought at Sam's Club) and made a beautiful dish.  We topped it off with a little fresh basil to just add that last little bit of flavor.  If you get a chance, check out our handy tip about fresh basil.
Overall, the dish took about 20 minutes from start to finish.  The sauce was creamy and soaked right into the fresh pasta.  The nice piece of crusty bread to soak up the leftover sauce just made my day.  The tomatoes added a bright acidity that was very welcome.  We paired the whole thing with a simple garden salad for a quick, healthy dinner that will fill up little bellies and big ones alike.
Since I love recipes that have legs, I have to say that the leftovers were just as good warmed up.  If you need to up the ante a little, you could certainly try adding some cooked mushrooms or other veggies into the mix.  If you aren't going meatless or are having leftovers on a non-meatless day, try adding some slices of Italian sausage or some baked chicken.  This dish can definitely hold up to it.  Enjoy!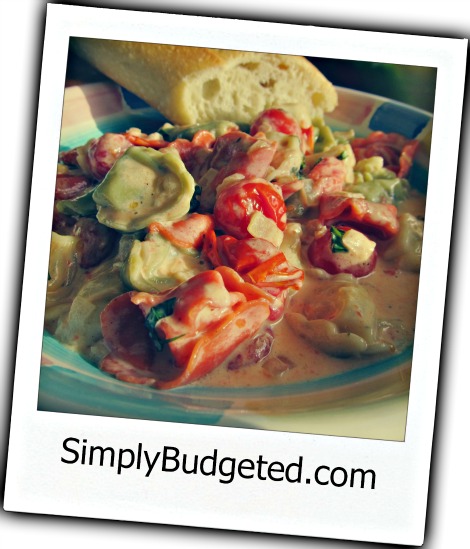 Margherita Tortellini Alfredo
Ingredients
One package of Artisan Fresh 3-Cheese Tri-Color Tortellini (they come with two packages)
4 tbsp butter
1 medium onion, diced
1 clove garlic, minced
2 cups cherry tomatoes
1 cup heavy whipping cream (if you just have milk, that's fine, but the sauce will be a little thinner)
1/2 to 3/4 cup grated parmesan cheese
salt and pepper to taste
1/4 cup basil, thinly sliced
Directions
Bring a large pot of well-salted water to a boil.  Follow package directions to cook pasta.  Reserve some of the pasta water for later use.
Melt butter in a large skillet over medium to medium-high heat.  Add onions and saute until translucent.  Add garlic, tomatoes, and salt and pepper, stirring often, trying to pop the tomatoes.  Cook for about 10 minutes.  Add cream, stirring to combine everything.  Add cheese and additional salt and pepper if desired.  Reduce heat.
Pour cooked pasta into the cream sauce, folding to coat.  If sauce is too thick, add 1/4 cup of pasta water at a time until sauce is to desired consistency.  Remove from the heat and add sliced basil. Serve with a garden salad and a good hunk of crusty bread.  Enjoy!
Does your family participate in Meatless Monday?  What are you having for dinner tonight?  Have a Meatless Monday experience, recipe, or request?  Leave us a comment and let us know.  We'd love to hear from you!
Meatless Monday, a national nonprofit public health initiative, is all about incorporating more vegetables and less meat into our diet. It's about moderation, just one day a week, cutting down on meats high in saturated fat and increasing protein-rich plant-based foods — good for personal health and good for the planet.