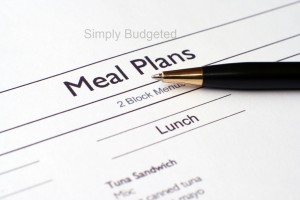 Our Monthly Meal Plan has kind of become a staple of our budgeting process.  Rather than planning for meals from week to week, we put in a little extra time and effort and knock it out right away.  It takes a little discipline, but sticking to the plan can keep costs down and lead to a healthier and closer knit family.  Research supports the notion that having dinner as a family has a number of benefits for the kids (http://children.webmd.com/guide/family-dinners-are-important).
Even though we strive to stick to our plan, however, sometimes life just gets in the way and we have to change things up a little.  Don't let that discourage you, though!  I always feel that if I have a plan, I can always adjust it when the need arises.  If I don't have a plan, though, I feel like I am always adjusting and trying to put something together at the last minute.  That's usually not a fun way to be.
This month we are really trying to tighten our belts by focusing on prepared main dishes that are in the freezer already (like our BBQ) and on items that thaw in larger amounts (like using the 2 lb package of beef for burgers and tacos).  Hopefully, we should only have to purchase some milk and fresh produce to get through most of the month!  We are trying a new format that runs weekly instead of just being a list of days.  We also have a couple of links to recipes here and will add more as they become available.  Let us know what you think.
November 2011 Monthly Meal Plan
Week 1 (October 30-November 5)
Sunday–Pork Chop Dinner
Monday–Pumpkin Polenta with Grilled Veggies
Tuesday–Cashew Chicken with Rice
Wednesday–Pasta Bake (We're making two:  one for now and one for later)
Thursday–Chicken Dinner
Friday–Pizza (Our girls are having a friend over for a sleepover…Pray for us!)
Saturday–Chicken and Waffles
Week 2 (November 6-November 12)
Sunday–Chicken Dinner
Monday–Falafel (With all the fixins, of course)
Tuesday–Tacos
Wednesday–Sausage Sandwiches
Thursday–Soup and Salad
Friday–Spaghetti
Saturday–Pizza
Week 3 (November 13-November 19)
Sunday–Daring Cooks' Challenge:  Tea-Brined Chicken
Monday–Veggie Stir Fry
Tuesday–BBQ w/ Baked Beans
Wednesday–Breakfast for Dinner!
Thursday–Leftovers
Friday–Mac and Cheese
Saturday–Burgers
Week 4 (November 20-November 26)
Sunday–London Broil
Monday–Quiche
Tuesday–Leftovers (Empty out that fridge for later in the week!)
Wednesday–Pasta Bake (Made earlier in the month–Why cook now?  We'll be cooking for an army tomorrow!)
Thursday–THANKSGIVING!!
Friday–Turkey Enchiladas
Saturday–Turkey Shepherd's Pie
Week 5 (November 27-December 3)
Sunday–Shrimp Scampi w/ Rice Pilaf
Monday–Red Beans and Rice
Tuesday–Turkey Salad
Wednesday–Pork Chop Dinner
Thursday–December Meal Plan
Friday–December Meal Plan
Saturday–December Meal Plan
Looking for recipes or answers on monthly meal planning?  Leave a comment or email us with your questions.  We can't promise that we have the answers, but we will do our best to find them!  Just send us an email at simplybudgeted at gmail dot com.
Have you tried monthly meal planning? How did it go? Any tips or suggestions?