Today's Meatless Monday was a clean out the cupboard meal. We had some Middle East mixes in the cupboard so they became tonight's feast. We had the Manischewitz Falafel and Hummus mixes and a Near East Taboule.
My father visited the Middle East several times when I was growing up and introduced us to the lovely, simply cuisine of the region.  I have been to Israel a few times and to Iraq with the Army.  Sampling the local food only fueled my love of it.  When I introduced it to my wife, she didn't really know what to think, but she has grown to appreciate and even seeks out this kind of food from time to time.  Now we are busy introducing this cuisine to our children.
Tonight's plate has elements that are colorful, crispy, and creamy.  The taboulleh salad has fresh tomatoes, cucumbers, and bell peppers added after chilling the prepared box mix.  Store bought pita were cut into eighths and baked at 350 for 15-20 minutes to make crunchy chips for the hummus.  A couple of squeezes of lemon really brighten up the hummus and falafel, making them feel a little more like home made.  The salad with just a couple of drips of lemon rounds out the plate and adds a little color while upping the veggie ante a bit.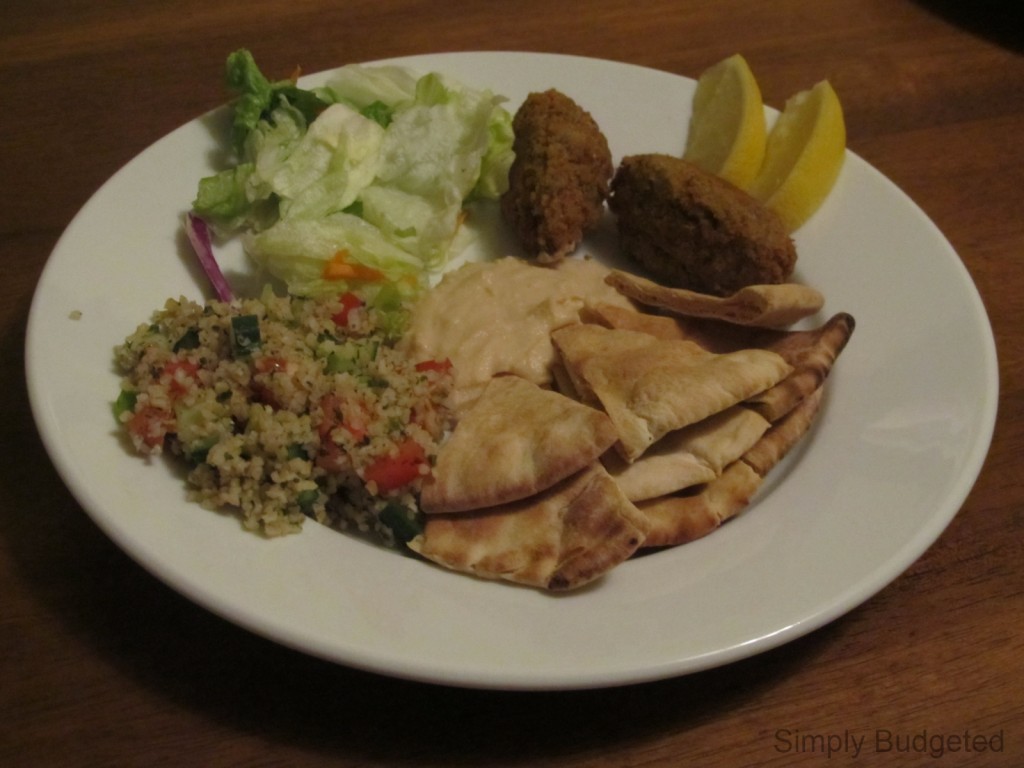 This is a full plate and shows that Meatless Monday doesn't have to be complicated or super expensive.  The whole plate took about 30 minutes of active prep time.  Prepare everything the night before and dinner can be on the table in about 15 minutes!
Have any favorite Middle Eastern dishes?  How about a super simple meatless plate?  Leave us a comment and let us know!