With our diet plan for January, February, and March, we haven't had a great opportunity to do our Daring Kitchen Challenges this year.  We are very excited to get back in the mix and take up the challenge for the rest of the year.
Our April 2012 Daring Cooks hosts were David & Karen from Twenty-Fingered Cooking. They presented us with a very daring and unique challenge of forming our own recipes by using a set list of ingredients!
As part of the challenge, we were required to pick one ingredient each from three lists:
List 1: Parsnips, Eggplant (aubergine), Cauliflower
List 2: Balsamic Vinegar, Goat Cheese, Chipotle Peppers
List 3: Maple Syrup, Instant Coffee, Bananas
I chose to use parsnips, chipotle peppers, and instant coffee to create a Coffee Rubbed BBQ Sandwich with Chipotle BBQ Sauce and Apple Parsnip Slaw.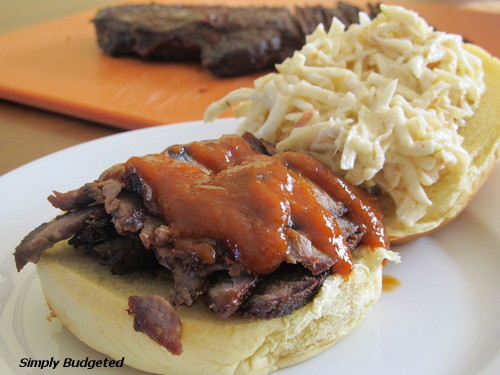 Coffee Rubbed Beef BBQ Sandwich with Chipotle BBQ Sauce and Apple Parsnip Slaw
The combination of sweet and spicy made this a sandwich that you would go back to over and over again.  So yummy!
Ingredients
2 Tbsp instant coffee
2 Tbsp kosher salt
2 Tbsp sweet paprika
2 Tbsp brown sugar
1 tsp black pepper
1 tsp garlic powder
1 tsp onion powder
2 eye of round steaks
Chipotle BBQ Sauce (recipe follows)
Apple Parsnip Slaw (recipe follows)
8 sandwich rolls
Directions
 Combine first 7 ingredients (through onion powder) and coat steaks liberally.  Place into a zip top bag and refrigerate 8 hours or overnight.  Pull steaks out about 30 minutes before cooking to allow them to come to room temperature.
Heat one side of a grill on medium-high heat and the other on low heat.  Sear steaks over medium-high heat about 5 minutes on each side.  Move to the low heat side and cook for another 30-45 minutes or until meat is cooked through and indents when you push it.
During the last 10 minutes of cooking, baste the meat with the Chipotle BBQ Sauce, flipping and basting at least 3 times per side.  Allow to rest 10 minutes before slicing thinly.
To serve, place a small pile of meat on a sandwich bun and top with sauce and Apple Parsnip Slaw.  Enjoy!
Chipotle BBQ Sauce
You can add more or less of the chipotle or adobo depending upon how spicy you like your sauce.
Ingredients
1 Tbsp olive oil
1/2 medium onion, chopped
2 cloves garlic, minced
1/2 tsp salt
1/2 tsp pepper
2 chipotle peppers, chopped
1 Tbsp adobo sauce
1 cup ketchup
1/4 cup brown sugar
Directions
Heat oil in a saucepan over medium-high heat.  Add onion and sautee 3-4 minutes.  Add garlic, salt, pepper, and chipotles and sautee another 3-4 minutes.  Add remaining ingredients, turn heat down to low, and cook for 10 minutes.  Pour into a blender and puree sauce.  Return to heat and keep warm until ready to use.
Apple Parsnip Slaw
My tip:  Mix all of the dressing ingredients together before shredding the apple so that they don't turn brown!
Ingredients
1/2 cup buttermilk
1/4 cup plain Greek yogurt
1/4 cup mayonnaise
1/2 tsp sugar
salt and pepper to taste
2 tart apples (Fuji, Granny Smith, etc), shredded
3 medium parsnips, shredded
Directions
Combine first five ingredients.  Mix well.  Combine apples and parsnips and coat well with the dressing mixture.  Refrigerate or allow to sit at room temperature for 15-20 minutes to allow flavors to develop.
Have you ever created a recipe?  Given those lists of ingredients, what creations could put together?  Leave us a comment and let us know!