We've been kind of slacking this summer with our Meatless Monday entries.  We've been trying a few new things around here to see how they work.  We've also been taking the time to pay attention to the web and to magazines that we subscribe to so that we can get a little bit of inspiration and have some great ideas for all of you out there.  I've also started to realize that I don't really work in terms of recipes.  I always try to force a recipe out of myself, but I tend to work in handfuls, pinches, and abouts, rather than in cups, teaspoons, and exact measurements.  I'm hoping that, as I start writing down my methods, those of you who are a little more reserved in the kitchen can see just how much fun and how extemporaneous cooking can be.  Really, if you get good ingredients that go well together, you can pretty much just cook it until it tastes right.  If it doesn't work….well, pizza fixes pretty much anything!
This week's meal starts with Fresh Corn Cakes from Cooking Light.  I saw these as I read through the magazine and knew that we would be trying them at some point.  As it happens, we already had almost everything we needed to make this recipe.  We did not have green onions, so we just omitted them.  The corn was left over from earlier in the week and had been roasted on the grill, so that was already flavored pretty well.  We also had some flavored butter handy (just melted butter with garlic and onion powder, salt, pepper, and Italian seasoning), so we used that on the pay, instead of the oil.  We were also in a bit of a hurry and hate to clean extra dishes, so we just dumped all of the ingredients into the food processor and gave it a spin.  Ours didn't rise up quite as nice, but I'll bet they were just as tasty!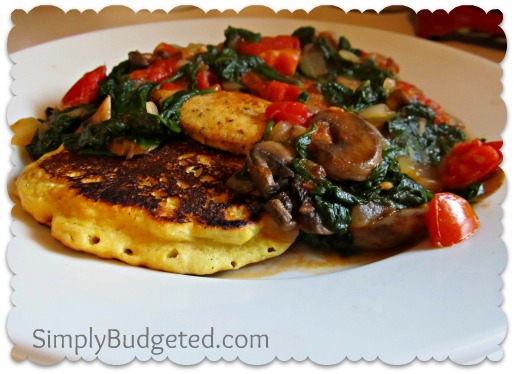 For the veggies, I just took stuff that we had handy.  A little oil in a large skillet over medium-high heat.  Add in some a chopped onion, a big box of chopped mushrooms (maybe 4 cups), salt, and pepper and cook, stirring occasionally until you just start to get some brown on it.  Top it with 4 or 5 big handfuls of baby spinach.  This will seem like WAY too much, but trust me, it'll cook down.  Don't touch it for about 3 minutes.  The steam from the onions and mushrooms will do the work here.  Start mixing in the spinach gently.  Tongs are a great way to go here.  Once everything looks just about done, toss in 4 or 5 chopped tomatoes.  I chopped these in pretty good sized chunks, but then, I thought about adding them at the last minute.  It was a great add!  Add a bit more salt and pepper to help the tomatoes break down and to flavor the dish.  Give it maybe 5 minutes or so and you should be all set.  Spoon some on top of the corn cakes and enjoy!
My Thoughts:  The whole dish was reminiscent of a Shrimp and Grits dish, without the Shrimp.  The corn cakes really did taste a lot like really yummy grits but with a texture that did not make the dish all mushy.  Surprisingly, for as much spinach as I used, the spinach flavor really did not stand out.  As a good Southern boy, I know that I am supposed to love cooked greens, but I have just never really developed a taste for them.  I know I should eat them, so I try to incorporate them where I can.  In this case, the flavors of the tomatoes, mushrooms, and corn really mellowed out the bitterness of the greens.  I was very happy with that!  This is a dish that I would definitely do again!
Does your family participate in Meatless Monday?  What are you having for dinner tonight?  Have a Meatless Monday experience, recipe, or request?  Leave us a comment and let us know.  We'd love to hear from you!
Meatless Monday, a national nonprofit public health initiative, is all about incorporating more vegetables and less meat into our diet. It's about moderation, just one day a week, cutting down on meats high in saturated fat and increasing protein-rich plant-based foods — good for personal health and good for the planet.